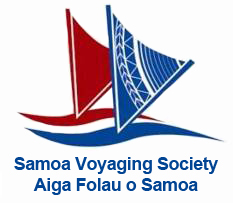 The "Aiga Folau o Samoa" or Samoa Voyaging Society (SVS) is a Samoa-registered non-profit organisation established in 2009 for the purpose of reviving Samoan cultural traditions related to ocean sailing and navigation as well as the promotion of the wise stewardship of the Pacific Ocean.
Our goals:
To encourage and develop traditional Polynesian voyaging, navigation and maritime skills among Samoans and other Pacific Islanders
To encourage conservation, protection and awareness of the Pacific Ocean and island environments.
To undertake open ocean voyages to contribute to the revival of traditions including historical links between islands.

The Patron of the Aiga Folau o Samoa, His Highness the Head of State of Samoa, Tui Atua Tupua Tamasese Efi;
Vice Patron Tuatagaloa Joe Annandale.